Must love dogs!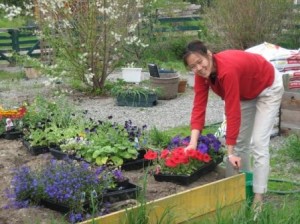 If you love our canine friends and dream of living in the very best of the great outdoors, then you'll love it here at Muktuk.
Volunteers and staff live alongside one another in two crew cabins which offer you clean comfort and an 'off-the-grid' lifestyle. That means no electricity or running water at your cabin.
Bathrooms, showers, linens, internet access, work clothing, and delicious home-cooked meals are provided in the Main Lodge.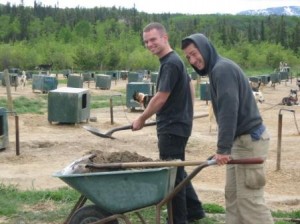 Depending on what duties you are assigned, your work day starts at 7 a.m. or 8 a.m. and normally ends at 5 p.m. or 6 p.m. However, crew are also expected to help with anything that comes up in the evenings.  There may be opportunities for breaks during the day.
Tasks vary depending on what needs doing, the season, how many crew members are here, and how many visitors are expected that day. The different areas you can work/volunteer in are:
Apart from those working in the kennel, evenings are main time that you will have to spend with the dogs. Just cuddle up to any one of dogs, or play with the puppies. You may be able to help with feeding time and training runs, take a dog for a walk around the property, brush their coats or bring them to your cabin for sleep-overs.
Depending on the length of your stay, you will have one to two days off per week which you may spend around the ranch or in town.  There are plenty of things to do in and around Whitehorse such as shopping, hiking, mountain biking, water sports, cross-country skiing or downhill skiing and snowboarding.  You may also be able to participate in workshops or classes so it is wise to plan ahead once you know your day(s) off.  The Takhini Hot Springs are close by, and so is the Yukon Wildlife Preserve where you can see buffalo, musk ox, caribou and mountain goats, to name a few.
Does this sound interesting?
Then apply for an opportunity at Muktuk Adventures. Just email us a letter and a PDF of your resume to info@muktuk.com.  Please indicate what area is of interest to you and what dates you are available (as specific as possible or indicate if dates are flexible).  Generally, a commitment of at least 8 weeks is preferred. Applicants traveling to Canada from other countries looking to volunteer must have a Work Visa. We hire in advance of each season, so if you're looking for summer positions, apply in the winter. If you would rather work in the winter season, apply in summer.
Also keep an eye out for our advertisements on GoodWork Canada,  PlanetVolunteer, and the Government of Canada Job Bank.