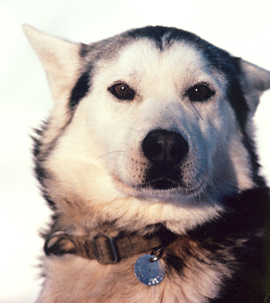 When Frank Turner talks about 24 years of competing in the Yukon Quest wilderness race, he emphasizes it was his team of dogs that led him to many top-five finishes in the 1990s, and to a first-place trophy in 1995. That team was led by Buck.
Buck was an Alaskan Husky born in 1991 and raised on the Muktuk ranch. A natural leader that commanded the respect of his fellow canines, Buck raced in five Quests during his life time and brought home the winning trophy at the height of his athleticism.
Initially, Frank underestimated Buck's potential. That all changed during an expedition when he and his team of dogs were confronted by -45 degrees Celsius weather on a very challenging trail. Buck rose to the occasion demonstrating great physical strength and determination as he steadily moved the team forward and never looked back.
Frank attributes Buck as their number one reason for winning the Yukon Quest, which led to further business success at Muktuk Adventures.
Fittingly, Buck became the company mascot. He retired at age 13 and lived out his remaining years on the ranch. Gone but not forgotten, the spirit of Buck lives on at the Muktuk ranch where all dogs are lovingly cared for, ethically trained, and encouraged to live out a life of their own making, be it work, rest, play or adventure.
A portrait of Buck serves as the company logo where he continues as lead dog representing the heart and soul of Muktuk Adventures.
Learn more > Our Dog Care