None Better! Our guests and crew enjoy home-cooked meals every day.
We prepare meals with fresh vegetables and herbs grown in our organic greenhouse which is situated right next to our Main Lodge.
Visitors are encouraged to join us for lunch or supper any day of the week. We are licensed so an assortment of wines and local Yukon Brewery products are available to enjoy with your meal.
Lunch: $14.99
Served daily at 12:00 p.m.
Dinner: $29
Served daily at 6 p.m.
If interested please call in advance. We have some level of accommodations to add on but to ensure enough quantity we would appreciate a call ahead. We take into consideration dietary restrictions to please let us know what you can't or won't eat!
A NORTHERN DINNING EXPERIENCE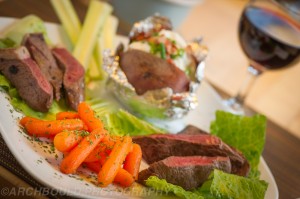 Taste of Yukon Lunch: Noon
$29 per person
Minimum of 2 people.
This is a teaser to the dinner for lunch. Bison, Elk, appetizer, and our special Muktuk recipe sauce. The lunch also features a house salad and dessert.
Combine your Taste of Yukon Lunch with our two-hour Summer Guided Tour starting at 1 p.m. for $50.
Taste of Yukon Dinner: 6pm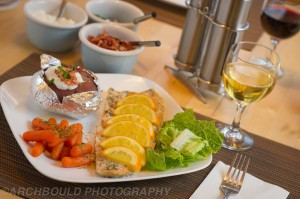 $54.99 per person
Minimum of 4 people. This is a home-cooked bounty of  locally sourced. Arctic Char,
Bison,  Elk comprise the main course and special Muktuk recipes
(visitor favourites) of fresh vegetables and dessert options are also included.
This an authentic Yukon experience and we guarantee you've never had anything better!
Combine your Taste of Yukon Dinner with a two-hour Summer Guided Tour starting at 4 p.m. for a total price of $75.
Please note: Reservations are required at least one day in advance. Please call to inquiry.