Beyond our lovable Huskies there is a world of discovery. Enjoy local attractions, scenic trails or the serenity of the Takhini River.
Summer or Winter-Nearby Attractions
Enjoy the physical and emotional benefits of both the water and the surroundings at the Takhini Hot Springs.
Haven't seen Yukon Wildlife on your visit yet? Join the Yukon Wildlife Preserve for any number of their tours to view and learn about various unique northern mammals in their natural environment

Hiking or biking, skiing or snowshoeing? With a short drive in either direction there are ample trails to explore. We like Yukon Hiking for precise information on various difficulty scaled trails.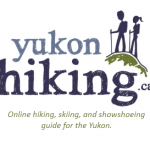 Enjoy Muktuk's location right on the banks of the Takhini River. Warm summer days are cherished here so enjoy a swim in the river-with or without the dogs, your choice! You'll find we always choose with dogs!