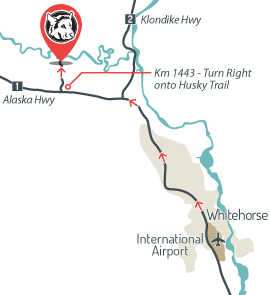 Muktuk Adventures
Box 20716, Whitehorse,
Yukon, Canada Y1A 7A4
Phone 867.668.3647
Fax 867.633.4200
How to get to Muktuk by Car
From Erik Nielsen Whitehorse International Airport:
Travel north along the Alaska Hwy (Hwy 1), passing by the Dawson City turn-off (Hwy 2). Continue along until you see the Muktuk sign on the right side of the road.
Drive one mile further until you see a blue sign with flags on top and a green street sign that says Husky Trail (Km 1443).
Turn right and follow Husky Trail at a reduced speed for about 4 kms. This road will lead you directly into the Muktuk Ranch.
Driving time from downtown Whitehorse or from the Airport is approximately 20 minutes.
Connect with us